Corporate Overview
Certified Woman-Owned Business
Alternative Micrographics, Inc. is a Scanning, Microfilm, Imaging, and Records Management Corporation located in Forked River, NJ. We service New Jersey, New York, and Pennsylvania with regular pickups and deliveries using our own vehicles and employees.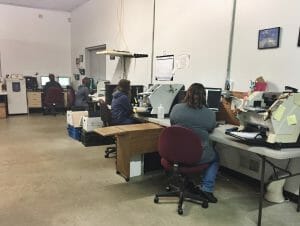 Through the years Alternative Micrographics, Inc. has successfully integrated state-of-the-art technology with experience and dedication to support our commitment to superior quality and service. We meet all standards of the industry – ANSI (American National Standards Institute), AIIM (Association for Information and Image Management), and ASCII (American Standard Code for Information Interchange).
Today, we are among the leaders in the imaging retrieval service industry. Our Policy is customer satisfaction. We assign an inside account representative to handle all aspects of your needs, requests for information retrieval and document preparation. Our outside representatives make sure that all of your requirements for service and timely completion of orders are met.
Founded in 1984, Alternative Micrographics, Inc. is operated as a female-owned small business. We average 30 employees currently servicing over 200 clients throughout New Jersey and the tri-state area.
About Us
Our primary service objective is to introduce order into the handling of paper documents through advances in the latest systems employed. With a continuing emphasis on the improvement of cameras, scanners, and processing techniques, the end result is the finest quality services at reasonable prices.
Our facility is fully insured and secured with a modern alarm system. Employing company-owned vehicles operated by bonded company employees; we make pickup and deliveries to accommodate work completion goals that are scheduled to customer time-tables and convenience. Please review all of the pages to see the service we offer, Our facility has been serving area businesses, schools, and government facilities since 1984, and we'd be happy to serve your needs.